FICTITIOUS BUSINESS NAME STATEMENT 20216614472The following company is doing business as: FASTSIGNS-67401, 1133 S PLACENTIA AVE, FULLERTON, CA 92831. This business is conducted by a limited liability company RGMZBK, LLC, 1133 S PLACENTIA AVE, FULLERTON, CA, 92831. The registrants have not commenced to do business under the fictitious business name or names listed above. /S/RGMZBK, LLC.This notice was filed with the Orange County Recorder on 8/31/21.The San Clemente News: 9/17/21, 9/24/21, 10/1/21, 10/8/21.
[et_pb_posts_blog_feed_masonry_agsdcm posts_per_page="10″ category_id="4,5,19,17,29,14,30,31,6,33,37,22,3,23,24,34″ admin_label="Latest Local Articles" _builder_version="3.19.17″ blog_feed_module_type="masonry" _i="2″ _address="3.1.0.2″ /]
[et_pb_posts_blog_feed_masonry_agsdcm posts_per_page="5″ category_id="0,32″ admin_label="Latest Legal Notices" _builder_version="3.19.17″ blog_feed_module_type="masonry" _i="4″ _address="3.1.0.4″ /]
What's Your Favorite Streaming News Source?
Oops! We could not locate your form.
Elevation: 10′
ZIP codes: 92657–92663
Population: 85,186 (2010)
Incorporated: September 1, 1906
City Flower: Bougainvillea
City Tree: Coral tree
The dramatic coastline of Newport Beach and its proximity to the water have always played a great part in the development of the City. The City's first inhabitants thousands of years ago were the Shoshone Indians who lived along the Pacific coast, supported by the abundance of the seas and fertile land.
In the mid 1700's, the Spanish aristocrat and military leader Gasper de Portola led an exposition to claim California frontier land for Spain . Portola enlisted the aid of Father Junipero Serra and numerous European soldiers to explore previously unmapped territory.
Decades later in the 1800's, land holdings of the Capistrano Mission were parceled out as Spanish and Mexican land grants to war heroes and aristocratic families. Later, many Spanish and Mexican landowners were forced to sell large tracts of their land. The most prominent landowners of the area, Don Sepulveda and Don Bernardo Yorba, men whose combined holdings comprised Newport Beach's upper bay and lower bay, sold their tracts to American entrepreneurs by the names of Flint, Bixby, Irvine and McFadden.
Santa Ana , Tustin and Orange became new farming communities for the settlers who arrived by steamer and covered wagon. Not long after, hide and tallow businesses emerged. The first stirring of commerce began when in 1870, a small stern wheeler from San Diego named "The Vaquero" made its first trip to a marshy lagoon to exchange lumber for hides, tallow, livestock and gain. James McFadden and other ranch owners in the Lower Bay decided from then on that the area should be called " Newport ."
In 1888 James McFadden changed the isolated settlement by building a wharf that extended from the shallow bay of the peninsula to deeper water where large steamers could dock. Shipping activity increased dramatically, and in two years, Newport was known as a vibrant Southern California shipping town.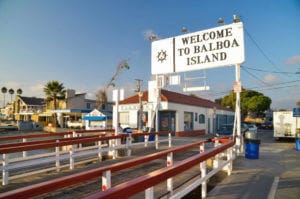 Attracted by the activity, Pacific Electric Railroad established itself in Newport in 1905, connecting the City of Los Angeles by rail. Rapid transit brought camping families to the waterfront, and small hotels and beach cottages sprang up to cater to the emerging tourist industry. At about the same time, the McFadden brothers sold their holdings of Peninsula land. West Newport , East Newport , Bay Island and Balboa became vacation communities in the beach boom decade. In 1906 with a population of 206 citizens, the scattered settlements were incorporated as the City of Newport Beach . These early settlements soon filled in on the Peninsula , West Newport , Balboa Island and Lido Isle, developing from West to East.The first newspaper The Newport News began publishing in April 1907
Parts of Newport Heights and Corona del Mar were annexed soon after the turn of the century. Between 1934 and 1936, the federal government and the county undertook work around the harbor. They dredged the Lower Bay , extended jetties, and created the present day contour of Newport Beach . In 1936, community members dedicated the City's main harbor, named Newport Harbor . Just six years later, during World War II, the harbor became a vital hub as naval ships were built and repaired in its coastal waters. Newport Beach businesses flourished due in part to an influx of new military personnel. At the end of the war, many service men and women decided to stay, triggering a real estate boom in Newport Beach . Seasonal rentals became year-round housing, and the City's identity as a summer resort location began to change.
The Santa Ana freeway, built in the 1950's, brought even more citizens to the City. During this time, housing development began to spread northward from the waterfront to the hills and mesa areas. Industries changed, as the fishing industry, once the backbone of Newport Beach 's economy, gradually declined to be replaced with vibrant new businesses and commercial centers. By the 1970's, rapid urbanization led to the building of shopping centers, hotels, high-scale restaurants, and many new homes.

Member of the California Newspaper Association
Member of the California Newspaper Association
We are a local independent weekly newspaper group serving Orange County, published every Friday. We are not owned or operated by any of the big daily newspapers. The views and opinions expressed are those of the publisher and not any organization. No reproduction, in whole or in part is permitted without the express written permission of Orange County Newspapers. Legal Advertising: We have been adjudicated by the Orange County Superior Court as a newspaper of general circulation pursuant to Government Code 6000 case #A202554 on July 6, 2000 and as such is the appropriate newspaper to place legal and public notices for the Orange County Judicial Districts.
Phone
(949) 589-9990
Fax
(949) 589-6429
Address
P.O. Box 3322 San Clemente,
CA 92674